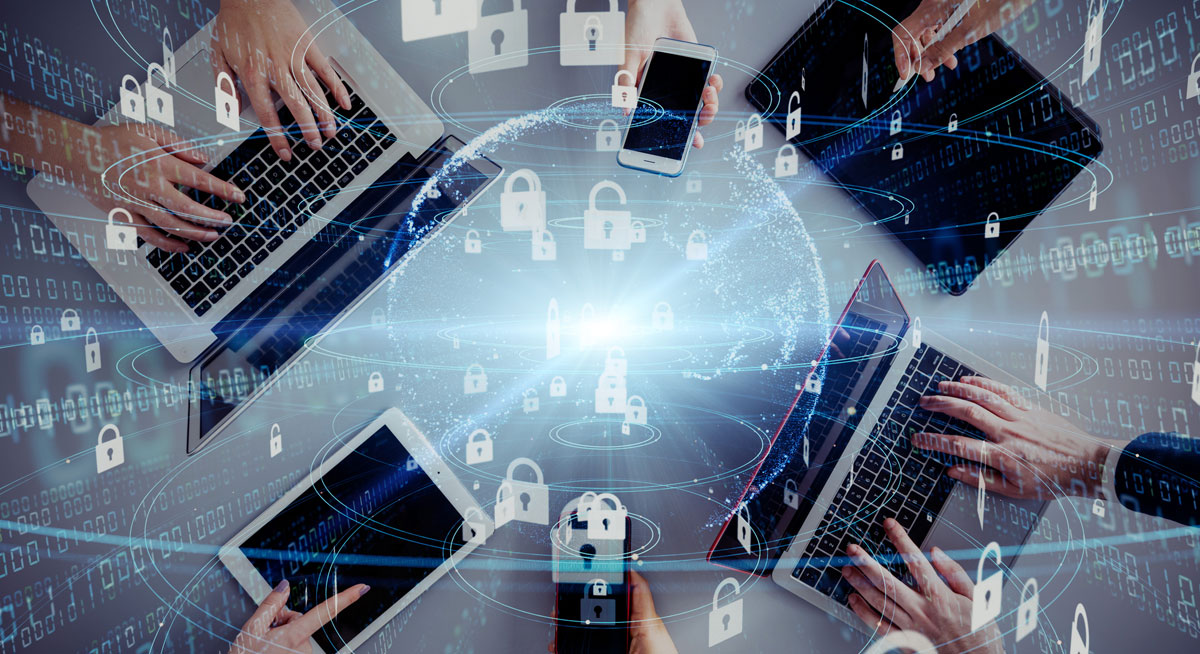 What makes team password management different from individual password management? When you manage your own passwords in your personal life or as a sole professional there's no need to share them.
You keep your own list (perhaps on a spreadsheet, on sticky notes hidden under your desk blotter, or saved in your web browser – all being poor examples of password hygiene, by the way, so yes, even individuals should use a password manager).
You make your own rules for password length and strength, change them whenever you feel like it, and you don't have to tell anyone. You trust yourself.
Passpack: Secure Team Password Sharing
Whether you are part of or own the team, then it's not just about you anymore. Your coworkers and employees have different roles and responsibilities.
They need controlled and managed access to business files and shared assets like Google Drive, iCloud, OneDrive, and Dropbox, and common apps like MS Office and the Adobe Suite to collaborate.
Others need the passwords to Zoom, Teams, Slack, and social media accounts, while those in executive and administrative positions need PINs and passwords to control finances, access IT systems, manage customer accounts, or maintain HR files.
You could take on the responsibilities of manually managing passwords and permissions for your team or the whole company, but you'll spend more time searching for lost passwords and catching up on administrative tasks than meeting business objectives, impacting productivity.
You need a tool that can create company-wide enforceable rules and policies for password generation and sharing. One that offers varying levels of access by individual user and the ability to create discreet teams.
You need a password-sharing tool to foster teamwork and collaboration. One that ensures employees have access to the resources they need, and only those resources.
You need a secure, centralized password management solution to help insulate you from cyber threats and breaches. One that is easy to use, scalable, and affordable. You need Passpack.
Passpack is an organization-wide secure password management and sharing solution optimized for businesses with team-based projects.
Passpack offers all the tools and advanced security features you need to create and safely share unbreakable passwords and implement best practices for password management among all employees
PasspackV10 Team Sharing Organizational Structure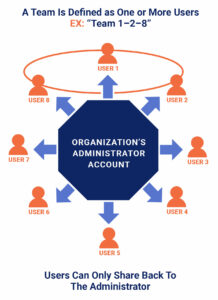 Passpack is platform-agnostic, so all team members get universal access to their authorized accounts on any device. Here's how it works:
We employ a structure in which a designated client administrator controls password distribution among all users. All passwords must pass through the administrator's account; direct sharing of passwords between individuals is not permitted, as this would create loopholes in which the admin might not be aware of any changes. Only the administrator is granted control to add and remove users to teams and track changes to login credentials across an organization's entire workforce.
Upon creating an account, the administrator invites users via email to share a folder populated with passwords needed by that team.
The administrator then shares passwords securely with teammates or with authorized team members, and each is given read-only or read-write permissions.
Users can be assigned to multiple teams and folders. Passpack supports an unlimited number of users and passwords.
Should a user need to create a password for a new account or shared drive, for example, the password can only be shared with the administrator account; the admin must then re-share the password out to other users in the team folder if required.
This is how Passpack enables organizations to retain centralized control and total visibility over all company passwords. User-level controls allow admins to easily remove individual access from a team without affecting other members or passwords.
Multiple Layers of Security for Peace of Mind
Inside this self-contained ecosystem of password management are additional layers of security designed to keep your digital assets safe and secure. Beyond driving all password management activity through a centralized administrative account, Passpack:
Enforces consistent password creation policies through a built-in password generator that supports varying lengths and characters including symbols to increase strength.
Offers detailed reporting and user histories to trace access histories and identify the source of breaches.
Supports secure team password sharing, importing, and exporting through end-to-end 256 AES data encryption. Only authorized users can see enciphered passwords when decrypted at their device.
Is built on a Zero-knowledge security architecture in which only end users have access to their data and credentials, and each account is protected by the user's unique Master Packing Key.
Passpack never has access to encryption keys and can never share data with Passpack employees or third parties.
Supports multi-factor Google Authentication and two-factor authentication (including YubiKeys) to enable secure access to services, as well as single sign on (SSO) to simply use at larger organizations.
Getting started with Passpack Secure Team Password Sharing is Easy
Unlock the power of secure team password sharing with Passpack. We offer versatile plans and tiers for businesses of every size for just pennies per user per day – a small price to pay for peace of mind.
Visit us at www.passpack.com and try our service risk-free for 28 days and see how easy and affordable it is to keep all your passwords safe with Passpack.