You can immediately start the Initial Migration Process to Passpack V10 without involvement from Passpack customer service.
First, you must register for a New Passpack V10 Trial account; this can be done at the following location: app.passpack.com/register/team. Please register for Passpack V10 using the SAME e-mail address you used to register for Passpack V7.
If you have a paid plan in Passpack V7, please contact Passpack Customer Service to let them know the e-mail address used to register the New Passpack V10 trial account. If you already have a Passpack V10 account you would like to use, please inform customer service of the e-mail address to this account.
Passpack Will ensure that your level of service in Passpack V10 will be the same level as your current Passpack V7 account.
Customers with a Paid Passpack V7 Subscription will have Full Access to a Passpack V10 Team level plan for twelve months from the date they convert to Passpack V10. These customers will not be charged until the 12 months are completed.
Contact customer service here: support.passpack.com/hc/en-us/requests/new
The new Passpack has been redesigned; there are a few steps you will need to take to migrate your passwords from the old system to the Passpack V10 and set up the Team Members and Teams.
---
How to Export Passwords from Passpack V7
First, you will need to export your passwords from Passpack 7. To get started:
sign into your account at pp7.passpack.com/online
You can find the export tool by opening the tool menu.
Select Export from The Pull-Down Menu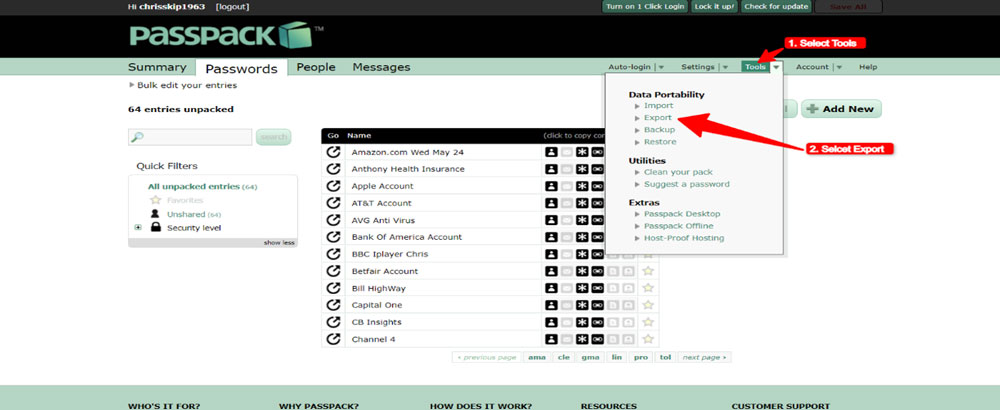 Leave the information on this page at the Default Settings and select the Continue button.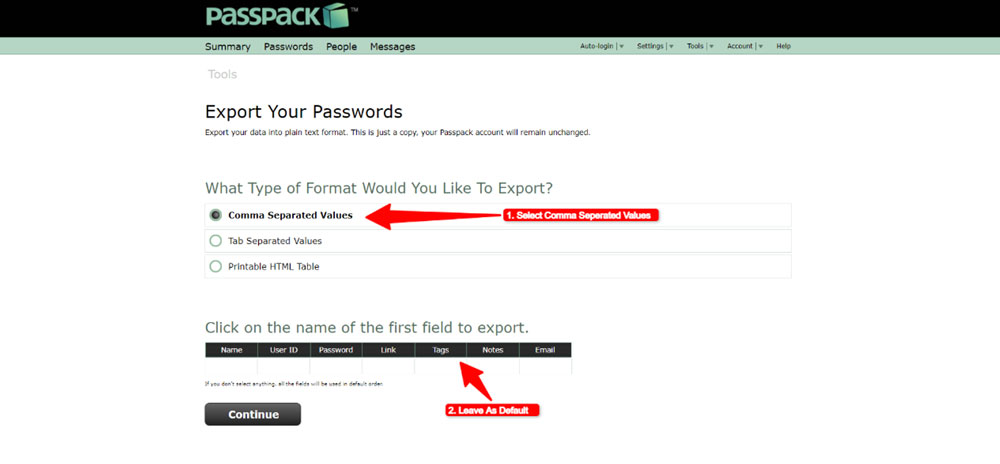 Copy and Paste the data into a plain text file using Notepad, Text Edit, or another text editor.
Save the file as plain text (.txt) and Not in a document format like .doc.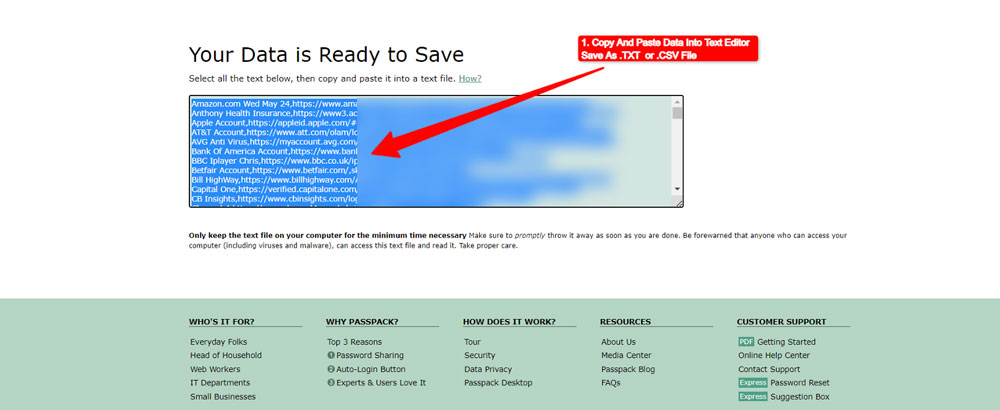 Your Files are now exported from V7 to a plain .txt file; the file extension can be changed to .csv if required. You are Ready to Import into Passpack V10.
---
Importing Your Passwords Into Your Passpack V10 Account
Once you have exported your passwords from Passpack 7, use the following instructions to import them into your Passpack V10 account:
It is easy to import passwords into your Passpack V10 account.
Once you have exported your passwords, typically in .txt or .csv file format from Passpack V7, please follow these steps to import your Passwords into your new Passpack V10 account.
Open Passpack and go to your settings by selecting the settings icon in the navigation menu.
Select Import from the sidebar menu.
Select the Select a File to Import button.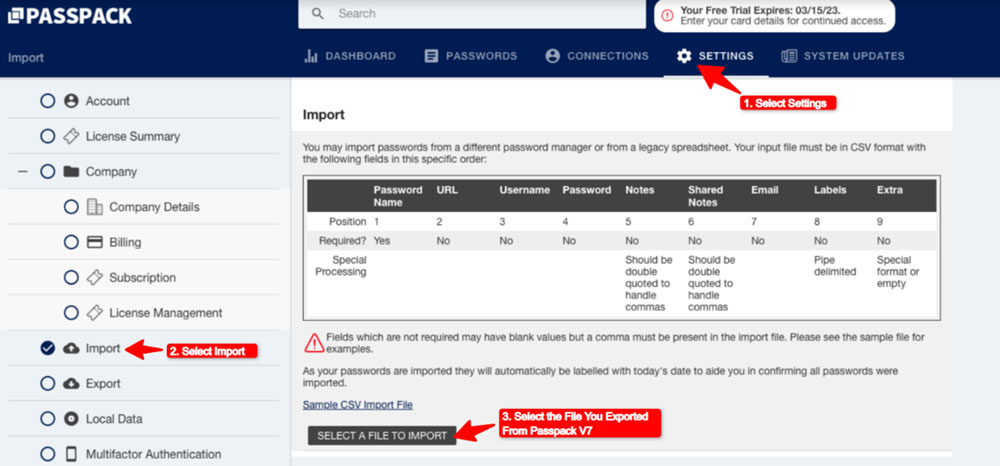 Find the file you Exported, which contains your exported passwords.
Select the file, then select File To Import.
Passpack will then import the passwords into your account.
Select the Close button when it has been completed.
A Window will appear Select Goto Passwords.
Your imported passwords should now appear in your password list.
Passpack adds a label with the date they were imported to the entries so you can easily find the new passwords.
If you are a Single License User, you have completed the process at this point.
---
Inviting Team Members and Adding A New License
Before Sharing Passwords and defining Teams for your organization. The Administrator will need to Invite New Team Members to collaborate. This is managed from the Settings Menu in the latest version of Passpack; please follow the steps below:
Select Settings Menu
Select a Company
Select License Management
Select Purchase More

Add The Number of Licenses Required Using the Up and Down Arrows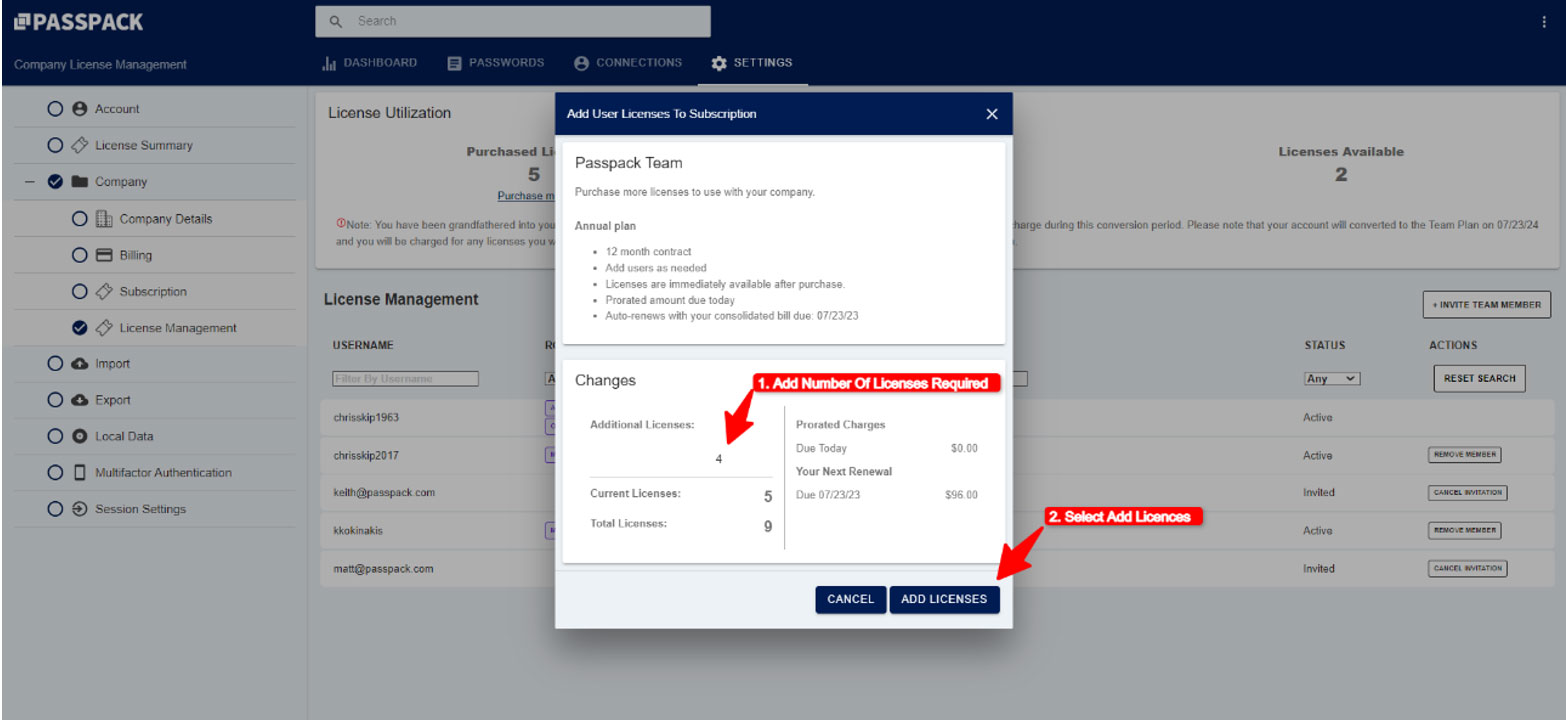 Type The E-mail Addresses of The Team Members you would like to Invite.

After selecting Invite Team Members, the system will confirm that your Team Members have received the Invitation. When accepted, Active will appear in the right column of the respective Team member.
Additional Team Members can also be invited later by Selecting the "Invite Team Members" function on the right of the screen.
The new License Management functionality replaces the "Add a Connection" feature in Passpack Version 8.
Please refer to the information below on setting up Teams in Passpack V10
Get Started with Passpack Today